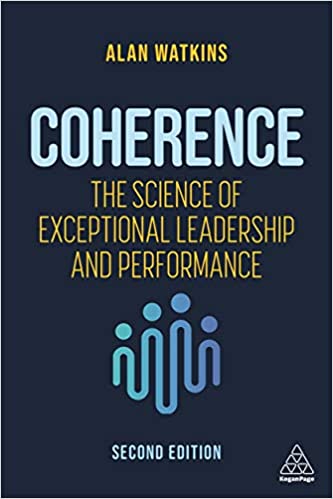 £21.52
Publisher:

Kogan Page

Edition:

2nd Edition

Available in:

Hardback, Paperback and Kindle

ISBN:

978-1-3986-0118-5

Published:

September 3, 2021
Purchase
Look Inside
Business leaders are faced with incredible complexity and excessive demands every day. This can damage their performance, impair the quality of their decisions, undermine their health and drain their energy levels. Understand how to overcome the obstacles inhibiting performance and unlock the potential for brilliance that lies within every leader.

Most leaders are operating nowhere near their optimal level of performance. In this book, Alan Watkins helps leaders at every level understand how they can transform their output and unlock their true potential. He shares proven techniques that have helped thousands of leaders in FTSE 50 giants and SMEs across market sectors and geographies as well as elite athletes, including the Olympic and Paralympic rowing team, which achieved their best-ever medal haul at the 2012 and 2016 Games as a result.
Coherence shows how our ability to lead and deliver results is rooted in our biology. Dr Watkins explains the science of how to increase energy levels and become smarter, more resilient, happier, healthier and more successful in whatever we do. Drawing on case studies from prominent business leaders and insights from a diverse range of research fields, he reveals the secrets to exceptional leadership and how to be brilliant every day. Now in its second edition, this vital guide contains upgraded practical tools and new insights on how to transform productivity, manage complexity, accelerate innovation and drive greater commercial performance, all while becoming healthier and happier.
Acknowledgement
Very special thanks go to Karen McCreadie, who has edited this new edition even more brilliantly than the first edition. You make writing so easy for me and for that I am eternally grateful. You are also delightful to work with mainly because we get on so well but also because of how brilliant you are at what you do – and who couldn't appreciate such genius? When I wrote the first edition of this book, I mentioned that it would be the first of eight books, and we have now done ten together. And, as you know, we are not done yet. There are still plenty more to do, and having you alongside makes this part of the journey so much more enjoyable – thank you.