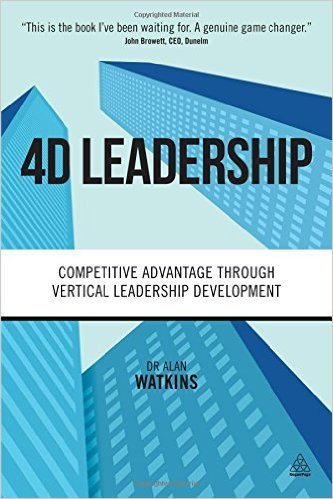 £18.41
Publisher:

Kogan Page

Available in:

Paperback and Kindle

ISBN:

978-0-7494-7464-5

Published:

December 3, 2015
Purchase
Look Inside
Neuroscientist and leadership coach Dr Alan Watkins draws on groundbreaking research into adult development to present a framework that will transform your ability to excel as a leader.
Today's leaders need to change radically to meet the challenge of complex organizations in a business landscape that is in constant flux. This requires not only new skills and competencies, but a step-change in development in three fundamental dimensions: how you do things, who you are, and how you relate to other people. 4D Leadership is what happens when this step-change in doing, being and relating takes place. When you move up to the next level of ability and sophistication in these three dimensions, you also unlock the fourth dimension (verticality) which will deliver a significant competitive advantage. 4D Leadership isn't just a quick fix or software patch for leadership skills: it is the road map to an operating system upgrade, which will enable you to deliver results you didn't think possible.
4D Leadership is for anyone who feels overwhelmed by the competing priorities of their role; anyone who feels stressed by trying to maintain competitive advantage through innovation; anyone looking to develop a more responsive and rewarding strategy, drive change and take people with them, and become a truly rounded and 4-dimensional leader.
This is the book I've been waiting for. A genuine game changer. – John Browett, CEO, Dunelm

This book demonstrates how leaders and businesses can be purpose-driven and a force for good when they focus on all four dimensions. – Carolyn McCall OBE, CEO, easyJet