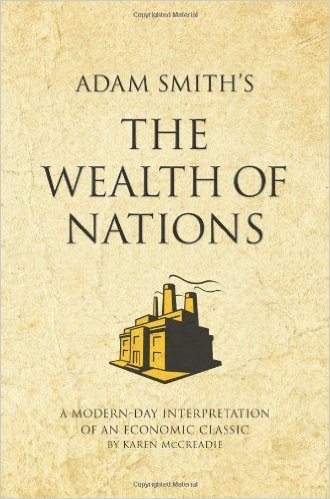 £9.99
Publisher:

Infinite Ideas

Available in:

Paperback and Kindle

ISBN:

978-1-906821-03-6

Published:

June 12, 2009
Purchase
Look Inside
Published in 1776, Adam Smith's The Wealth of Nations was the first comprehensive treatment of political economy. Today it is considered one of the most influential books ever written and its author is regarded as the father of classical economics. Smith did for economics what Darwin did for science. Here Karen McCreadie interprets this inspiring book for the modern-day world of finance, business and economics, illustrating the timeless nature of Smith's insights by bringing them to life with twenty-first century examples. Inside this entertaining little book, you'll discover:
How to improve productivity;
How to avoid divisive management;
Why you should pay your people well;
The importance of long-range thinking;
Why playing the lottery is no substitute for economic strategy.
While we cannot know what Smith would have made of the excesses of capitalism we've already witnessed in the twenty-first century, the range of ideas inside demonstrates that The Wealth of Nations is every bit as relevant today as it was in 1776.
Translations: