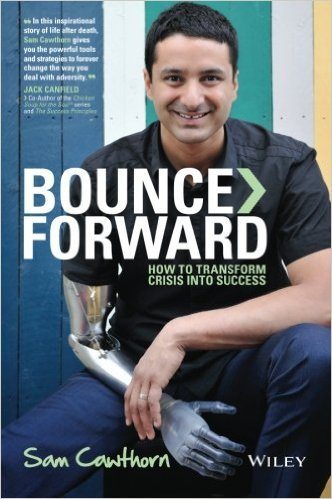 £14.50
Publisher:

John Wiley & Sons

Available in:

Paperback and Kindle

ISBN:

978-1-118-64134-7

Published:

November 8, 2013
Purchase
Look Inside
At just 26 years old Sam Cawthorn experienced a serious car accident that resulted in the loss of his arm and the news that he may never walk again. At this critical moment he realised he had an incredible opportunity to create a better life. His experience drove him to uncover the mechanics, tools and strategies used by people and organisations to not just bounce back but bounce forward into greater lives, with greater focus and greater success.
Grounded in research and interviews with organisations, business leaders, teams and individuals, Bounce Forward teaches you how adversarial growth can ignite innovation, productivity and profitability. It offers the tools you and your organisation need to successfully navigate crisis and use it to your advantage, through four key principles:
Crisis creates opportunity
Proximity is power
Leverage positively to fuel success
Bounce forward not back
In this inspirational story of life after death, Sam Cawthorn gives you the powerful tools and strategies to forever changes the way you deal with adversity. – Jack Canfield co-author of the Chicken Soup for the Soul

In this compelling book, Sam Cawthorn shares important life lessons that emerged from his extraordinary experience of overcoming adversity. Sam's inspiring message, conveyed with his characteristic clarity, charm and humour, will empower you to overcome obstacles and savour the joy of living every day. – Michael J Gelb, author of How to Think Like Leonardo da Vinci
Acknowledgement
I would like to thank Karen McCreadie who was the backbone in putting this book together.