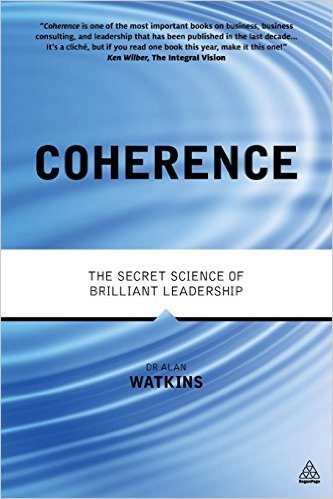 £24.99
Publisher:

Kogan Page

Available in:

Hardback, Paperback and Kindle

ISBN:

978-0-7494-7005-0

Published:

November 3, 2013
Purchase
Look Inside
Every business leader faces innumerable challenges every working day, each one taking their toll on precious energy levels and the ability to respond and react positively in a commercial environment. Coherence uncovers the fundamental issues that can limit a leader's effectiveness and ability to lead, and provides the reader with unique solutions, from the biological to the behavioural, designed to improve business results. Problems today cannot be solved with yesterday's level of thinking. CEOs fail and leaders burn out because our thinking has not sped up or powered up. Dr Alan Watkins not only recognizes that leaders have the potential for limitless processing power, but shows them how to access it, taking them back to fundamentals and , quite literally, to the heart of who we are and how we function successfully. By showing leaders how to be "younger, smarter, healthier and happier", Coherence gives every decision maker the power to make brilliant decisions under pressure and achieve sustainable success at every level.
Coherence is one of the most important books on business, business consulting, and leadership that has been published in the last decade. From beginning to end, it is richly detailed, deeply serious (but not ponderous), extremely illuminating, and altogether wise, and simply renders virtually all other books in this area woefully partial, fragmented, and limited. It is a powerhouse of inclusivity, comprehensive, complexity thinking, but replete with plenty of the "simplicity on the other side of complexity", making the book a great pleasure to read. It's a cliché, but if you read one book in this areas this year, make it this one! – Ken Wilber, The Integral Vision
Acknowledgement
A very special thanks goes to Karen [McCreadie], who has edited what I wrote so brilliantly. You made this dream a reality and your ability to marshal, sort, polish and enhance what I gave you was incredible. this book would simply not have happened without your help. Did I mention that this was the first of an eight-book series?