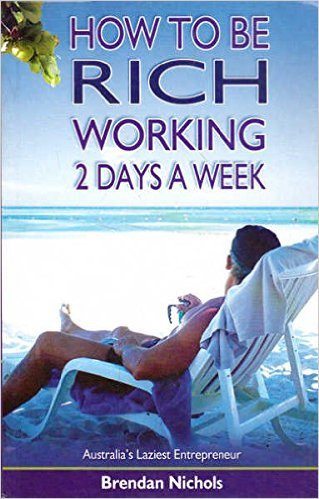 Publisher:

Brendan Nichols Events

Available in:

Paperback

ISBN:

978-0646-49429-6

Published:

October 1, 2008
Purchase
Discover how to double your income, escape 9-5 and take as many vacations as you want…
If you have daydreamed about going on more amazing vacations or spending more time with loved ones and still making a big income – you are not alone!
The book you are holding will show you a proven system to make serious money and have that amazing life now – not in some distant date in the future.
In this book you'll discover the groundbreaking method of how to:
Stop stressing over how you are going to pay the bills and know how to make cash easily and quickly.
The 21 Entrepreneurial, FAST track Formulas to generate a lot more income.
How to structure your business around your lifestyle and not be a slave to your career.
How to have the time and money to go on luxury vacations with your entire family.
The mistakes that the vast majority make, that literally flush money down the toilet and how to prevent it.
The essential steps you must use to make more money but actually work less hours.
Why most people struggle, work long hours and how to overcome it.
Once upon a time Brendan Nichols was stuck in the rat race too. The highly successful entrepreneur who has appeared in the media over 100 times, found a proven system that enabled him to escape the daily grind. he now has a high income life and spends a lot of time skiing in Colorado and exploring tropical islands.
He's taught this system to thousands of grateful people across three continents who now make more money and have the time to enjoy it. Now for the first time, you can discover the same insider knowledge others have paid thousands of dollars to learn.
Acknowledgement
To Karen McCreadie for her help in developing the book, thank you for your tremendous commitment to excellence… [She] is a massive departure from the 'world of average and half done'. Her work and commitment were excellent along with her ability to think laterally and bring fresh new ideas. It was a pleasure dealing with her from day one to the last day of the project.