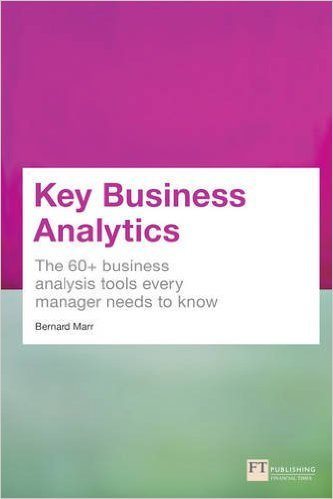 £16.99
Publisher:

Pearson - Financial Times (FT) Publishing

Available in:

Paperback and Kindle

ISBN:

978-1-292-01743-3

Published:

February 19, 2016
Purchase
Look Inside
A vital insight into analytics for every business. Analytics are essential in any modern business. They help you make better decisions, develop your strategy and identify growth opportunities in business.
Key Business Analytics provides easy access to the most powerful analytics tools. Whether you are a busy manager, business analyst or data professional, you can unlock the insights behind the data and improve your business performance.
Considering over 60 approaches, this jargon-busting book provides a practical overview of analytics tools and explains how to use them. It will help you understand some of the most valuable analytics techniques, the areas in business to apply them to and how to turn data into insights. From scenario analysis to data mining, learn how to interpret your data and transform the way you make business decisions. It's the essential guide for every manager.
Straightforward, engaging and entirely practical – Bernard Marr provides a comprehensive toolkit to rigorously analyse all aspects of your business. – Dr Simon Boucher, Chief Executive, Irish Management Institute

This book demystifies analytics and provides a practical guide for any business professional. Bernard makes it clear which method and processes are applicable to a wide range of business needs. – Rich Clayton, Vice President, Business Analytics, Oracle.