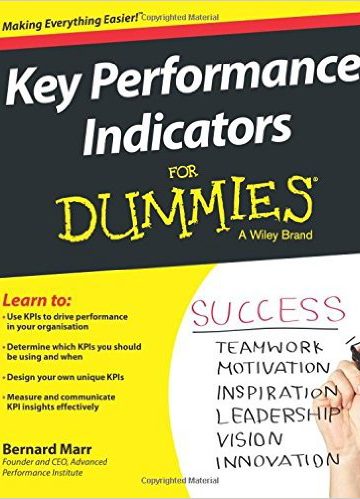 £16.58
Publisher:

John Wiley & Sons

Available in:

Paperback and Kindle

ISBN:

978-1-118-91323-9

Published:

February 6, 2015
Purchase
Look Inside
Is your business on track to achieve success? With the help of this hands-on, friendly guide, managers and business leaders will understand the crucial KPIs that should be implemented for all different aspects of the organisation,including financial performance, operational and internal processes, sales and marketing, customer satisfaction and more.
What are KPIs? – uncover the basics of Key Performance Indicators, from why every company needs them and where people go wrong with them to setting the right targets and organising your KPIs
Developing a winning KPI – find expert guidance on deciding on the right KPIs, how to collect the data, applying quantitative methods and finalising your KPIs
Use it or lose it – implement and use KPIs effectively, turn KPIs into insights, get the attention of decision-makers and use graphs and charts to visualise KPIs
The customer is always right – discover ways to develop customer, sales and marketing KPIs, measure the market and your place in it, develop operational and internal process KPIs and more
Gauge your performance – chart how well you're recruiting and how well you're training
KPIs are a crucial part of every manager′s toolkit, and are essential for helping to monitor the execution of business strategies and measure results. Key Performance Indicators ForDummies moves beyond a basic discussion of what KPIs are, and why they are needed to provide a complete guide for learning to design and use specific KPIs to drive organisational performance.