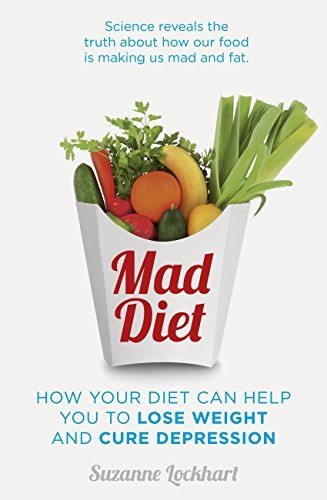 £9.99
Publisher:

Coronet (Hodder & Stoughton)

Available in:

Hardcover, Paperback and Kindle

Published:

May 27, 2016
Purchase
Science reveals the truth about how our food is making us mad and fat.
Are you depressed or struggling to lose weight? You are not alone. 1 in 4 people are taking antidepressants and two thirds of us are obese or overweight. Something is clearly very wrong. Mad Diet lifts the lid on what is really going on with our food and provides an easy guide to restoring your mind and waistline.
Mad Diet provides a fresh new approach to healthy eating, in a market full of 'gurus' who don't have the scientific knowledge to back up their claims, Suzanne Lockheart provides an accessible, scientific and empowering approach to healthy eating.
By detailing how harmful processed foods are, and showing you how to eat better for your body and your mind, Mad Diet enables you to change your outlook on food with positive outcomes for your mental health. As Suzanne says: 'We really are what we eat. If we change what we eat we can change ourselves. And if we do that we might just change the world!'
Acknowledgement
Special thanks to Karen McCreadie, who simplified my cumbersome prose and garbled research notes and transformed them into something worth reading. Without your input Mad Diet would not be what it is and for that I am eternally grateful.