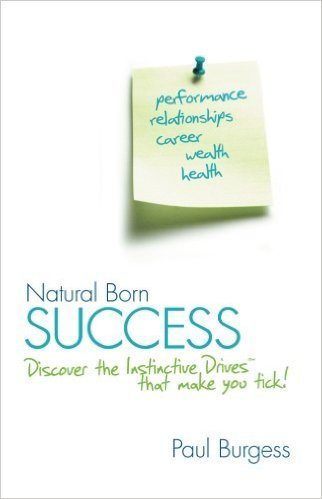 £17.50
Publisher:

Wrigthbooks

Available in:

Paperback and Kindle

ISBN:

978-0731405824

Published:

May 11, 2007
Purchase
Look Inside
Have you ever wondered why some tasks come naturally to you, while others leave you feeling frustrated and bored?
Paul Burgess believes it′s because we all have a unique combination of Instinctive Drives that act as an internal compass, guiding our thoughts and actions.
Natural Born Success will help you to discover your innate operating system your I.D. so that you can get ′in stride′ in your life. Knowing your I.D. will enable you to harness your inborn skills and reach new heights in your career, relationships, finances and family.
Validated by scientific research, the I.D. System is the only psychometric profiling tool that delves beneath people′s behaviour and personality to explore their Instinctive Drives.
Realise your full potential and life purpose by tapping into the natural motivations and talents that define the real you.
I'm excited to see the range of insights and strategies in this book – especially given the holistic application of the I.D.™ to relationships and parenting as well as work and career. – Randy Pond, Senior Vice-President Operations, Processes & Systems Cisco Systems Inc.
Acknowledgement
I needed a special person to help me write this book and I found that person in Karen McCreadie. I want everyone to know that Karen is a genius! Thank you, Karen, for your passion and your outstanding skill. Thank you also for working so patiently with me, meeting every deadline and making it so much fun.