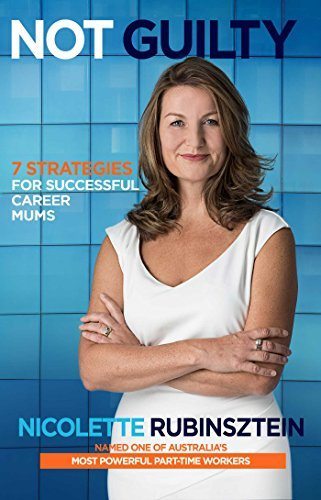 AU$32.99
Publisher:

Ventura Press

Available in:

Paperback and Kindle

ISBN:

978-1-925-3841-8

Published:

September 1, 2016
Purchase Kindle
Look Inside
One of Australia's most powerful part-timers shares her top strategies for women who want to raise a loving family and enjoy a successful career.
Corporate strategist and mother of three, Nicolette Rubinsztein, experienced the tough journey of juggling motherhood and her career. Both were important, but she quickly realised that 'having it all' was a myth. It was only when she applied the same strategic thinking she used in business to her situation as a harassed, guilt-ridden career mum that she was able to create a framework that would not only help her, but ALL working women, to successfully navigate the work/life balance.
Based on the McKinsey 7-S framework, Not Guilty offers tips on going part-time, how to keep your star status, how to get on the same page as your partner, curating your 'childcare jigsaw', the importance of outsourcing and how to have a good relationship with your boss.
Aimed at women who would like to have a fulfilling career but are equally passionate about their role as a parent, Not Guilty is full of practical tools to genuinely 'lean in' to both. It is also a call to arms and saving grace for mums who want to make it work, but don't know where to start.
Acknowledgement:
Thank you to Karen McCreadie for helping turn my passion and thoughts into something readable.