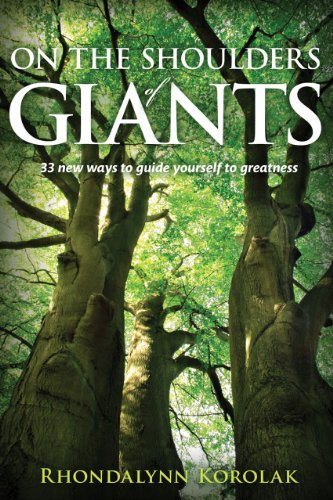 £7.94
Publisher:

Imagineering Unlimited

Available in:

Paperback and Kindle

ISBN:

978-0-9805578-0-0

Published:

December 1, 2008
Purchase
Look Inside
You can be one of the people looking for the 'secret' … or one of the people living it!
On the Shoulders of Giants is more than 'just another book' about how to develop a positive attitude or use the law of attraction. This fresh look at 33 pieces of timeless wisdom finally puts what you want most in your life and career within easy reach. It's about what really works and why. Based on her struggle to rebuild her life after a senseless tragedy, Rhondalynn brilliantly demonstrates how to make profound shifts in your life, work, finances, health, relationships, and more.
Learn how to:
Stop being so good at getting what you don't want
Understand how simple it is to get what you do want
See how 'Imagineering' a better life is the shortest path to living it
Make simple choices that accelerate your success now
Acknowledgement
Writing this book was an overwhelming and daunting task. I found that the words poured onto the page relatively easily but with them came vivid emotions and memories that I thought I had successfully buried. Had it not been for the support, encouragement, understanding and expertise of Karen McCreadie, this book simply would not have been possible. I consider it an absolute miracle that we connected via the internet and that she agreed to assist me with this project. I respect, trust and admire her immensely. She helped me to write the thoughts I couldn't express easily but desperately needed to communicate and she often read my mind and my heart – which was no easy task.