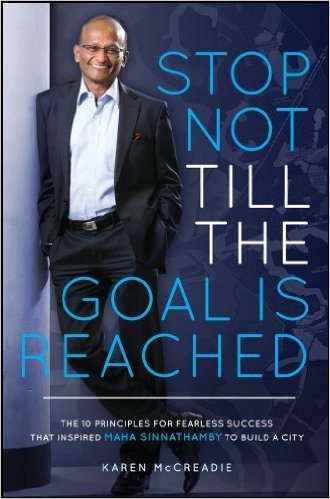 £21.95
Publisher:

John Wiley & Sons

Available in:

Paperback

ISBN:

978-1-74246-856-3

Published:

July 31, 2012
Purchase
In 1992 Maha Sinnathamby's private, undercapitalised firm purchased 2660 hectares of inhospitable, inaccessible land in an economically depressed region of Queensland, Australia. Two decades later, despite innumerable setbacks and endless challenges, Springfield has emerged as Australia's largest privately owned, master-planned city – an enduring legacy and a striking example of what's possible with fierce determination, unrelenting drive and extraordinary vision.
Stop Not Till the Goal is Reached looks inside the story of how Maha went from humble beginnings as an unemployed, penniless migrant, to an internationally recognised, award-winning property developer listed as Australia's 49th wealthiest person. It distils the 10 principles for fearless success that have made Maha's achievements possible, and explores the principles through his personal journey and other examples of astonishing achievements from around the world.
This book will inspire you to believe that it doesn't matter what you want, who you are, where you live, the colour of your skin or your gender – there are hallmarks to success and you can use these as the guideposts in your own adventure. You will discover what is possible with the right mindset, the right people and the right action, and how thinking big, audacious and often impossible thoughts will lead top enduring success and real world transformation.
You will discover how to stop not till your goal is reached.
Maha Sinnathamby is one of the most inspirational people I have ever met. Here is a man who, against all odds, converted a tract of "worthless" bushland into a thriving city. Despite opposition that would deter most people, he persevered with his vision. His story contains invaluable lessons for anybody who is serious about becoming successful.' – Noel Whittaker – investment expert, journalist and author

Life is about the communities we belong to and our contribution to them; our rugby club, our children's school, our family or our church. Maha has created a whole city with hundreds of thriving communities which will influence hundreds of thousands of lives for generations to come. This is a story of a man who through his belief and persistence has created something extraordinary. Australians often celebrate our sporting achievements above their due. Our history should also recognise and celebrate our pioneers just as fervently, as men like Maha Sinnathamby are few, but they are truly great Australians. – John Eales – World Cup-winning Wallabies captain and author  
Acknowledgement
I thank Karen McCreadie who has done her utmost to ensure this work reflects my motive to inspire the reader to action. In telling the Springfield story and in exploring the success principles that have guided me on my life's journey, Karen had open access to Bob and me, and also to my family. Her many quotes and supporting examples of amazing achievements throughout history serve to demonstrate the strength of the adage that "success leaves clues."
Karen and I would also like to acknowledge Greg Bourke for the extensive time he devoted to assembling all my personal records and all those relating to the Springfield journey, and for the invaluable contribution he made to this book.