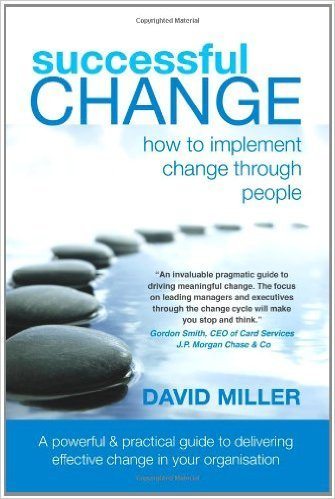 £8.99
Publisher:

BookPod

Available in:

Paperback and Kindle

ISBN:

978-0-9870848-8-0

Published:

June 19, 2011
Purchase
Look Inside
The trouble with change management is that there is an awful lot written and discussed about the failure of change projects. But how do you implement major change successfully? With Successful Change you'll understand how organisations and people connect, and learn how to successfully facilitate change when people have to adopt new ways of working that are a significant departure from their current practices.
Successful Change will help you understand how people-centred change methodology can:
Help successfully implement change
Energise your organisation around the change
Build leadership support
Engage others to make the transition stick
This is the kind of book you carry around with you. In a sea of sameness and 'consultant speak' Miller cuts through the theory and presents insightful, business savvy solutions centred on people. His voice is compelling as he draws from a deep reservoir of experience. It is essential reading for anyone confronted by change and in today's business environment that means everyone! – Craig Dinsell, EVP Human Resources Oppenheinerfunds Inc

As a programme manager I would recommend this book as essential reading for managers about the embark on a business transformation programme. David provides really useful insights and practical approaches based upon his many years of experience, to the project challenges that too often over stress managers when trying to cope with the demands generated by complex programmes of work. – Colin Grace, CEO, Praktis Solutions.
Acknowledgement
Karen McCreadie has been a tremendous support while I have been writing this book. She has been great at being editor, contributor and motivator all rolled into one package.