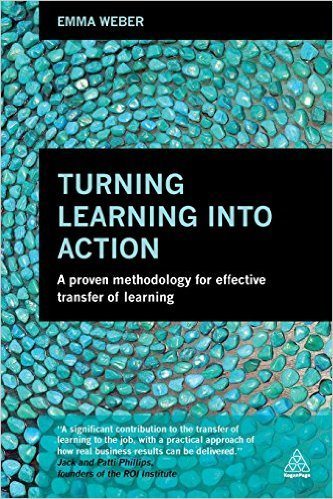 £19.99
Publisher:

Kogan Page

Available in:

Paperback and Kindle

ISBN:

978-0-7494-7222-1

Published:

March 3, 2014
Purchase
Look Inside
Standard training approaches are shockingly unsuccessful: less than 20 per cent of learning is transferred back into the workplace and used to deliver positive business results. This book presents Turning Learning into Action™ (TLA), a new, step-by-step methodology that provides a proven solution to this problem. TLA recognizes that successful learning is not just about good content and well-executed programmes but also about finding ways to facilitate genuine behavioural change and accountability back in the workplace. New knowledge doesn't deliver results without new behaviour.
This book provides the necessary tools to enable trainers, buyers of training and learning and development professionals to do just that. It acknowledges the important role of using a good instructional design process, but takes learning a step further. TLA focuses on the fact that to generate significant behavioural change, consistent, systematic follow-up after the training event is critical.
Turning Learning into Action will show you how to take the impact of the training you deliver or buy to the next level, so that your really get the business results you want.
Effectively describes what needs to happen in the post-instructional period to ensure business results. This thoughtful and readable book is highly recommended. – Andrew Jefferson and Roy Pollock, co-authors of The Six Disciplines of Breakthrough Learning

A significant contribution to the transfer of learning to the job, with a practical approach of how real business results can be delivered. – Jack and Patti Phillips, founders of the ROI Institute
Acknowledgement
Like all books, this one was not a solo effort. First, my thanks to the amazing Karen McCreadie without whose help this book would not have got past 26,000 words. Karen you have kept this project on track and moving forward. Thanks for your skill, talent and persistence. A word architect to be recommended.